I have been buying things again!
My new favourite site is etsy, it is truly fabulous and it makes you feel really special when you find one of a kind items. I could sit and look through the jewellery sellers for hours. Sometimes it can be a real pain trying to find a seller/designer who sells something you actually like, but the trick is to do the leg work, find something you love and then look through the sellers favourites and they will almost always have liked something that's as good or as unique as their items. Then repeat the process with those sellers and then you will find a little group of consistently good sellers with products that you love.
I treated myself to a couple of items recently.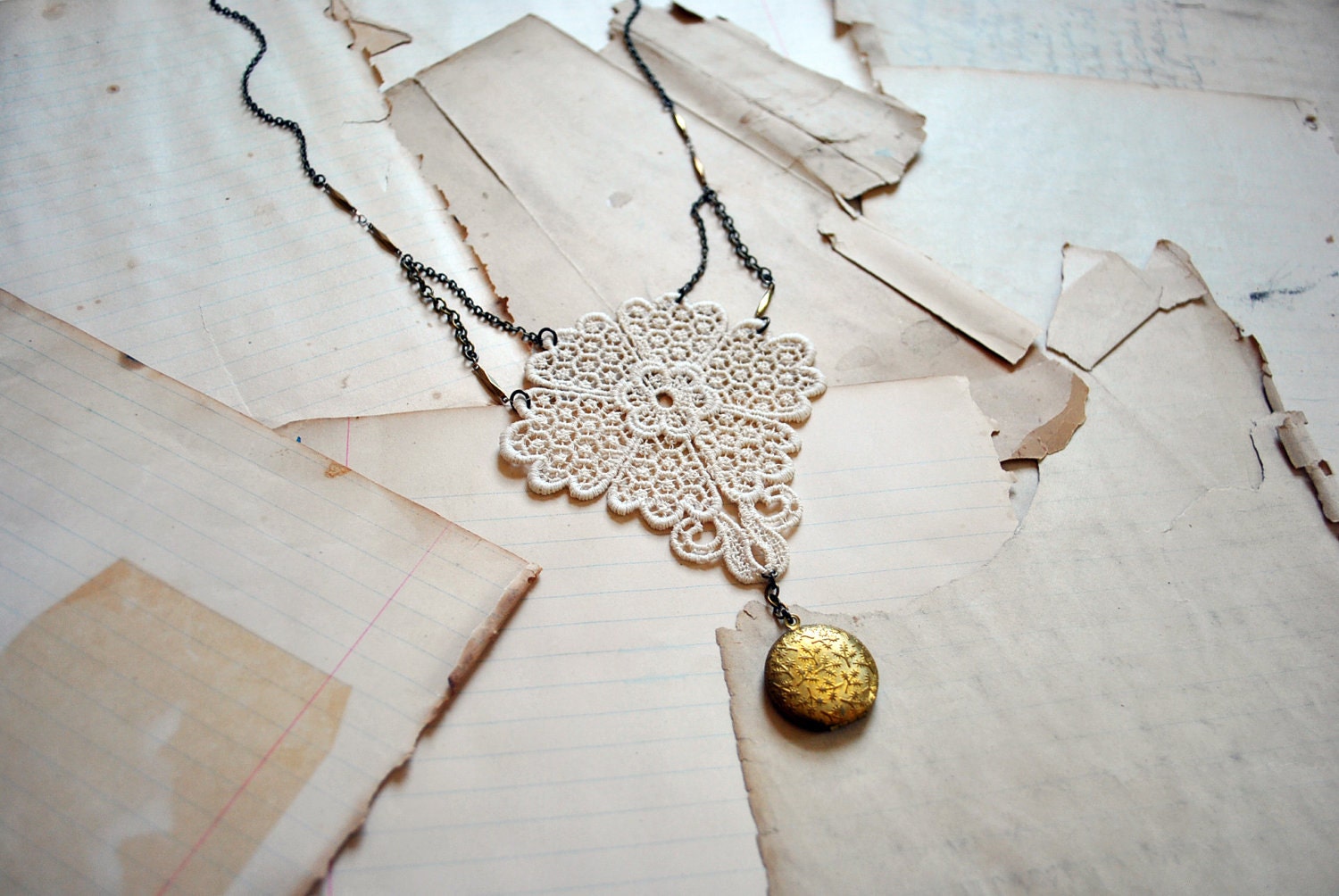 I'm so delighted with this. It's very pretty. I bought it from this little gem of a shop,
treeandkimball
.
I love that it looks antique, the golden locket at the end has such dainty little flower patterns on the, to me they look like what flies away you blow a dead dandelion to tell the time. This is joined on to a lovely crochet flower, I think this is my favourite part because it was handmade and it makes the necklace unique and the idea that someone has worked on it and put thought into it feels really special. The brass strands in the necklace just make this for me, it looks almost deliberately antiqued.
I can't wait to wear this, I think it would look beautiful with a cocktail dress or wearing something more casual like skinny jeans and short heels, a silk, cream cami and a little cardigan - would look very classy and understated but with a bit of personality.
My second item is this pair of earrings. More boobies.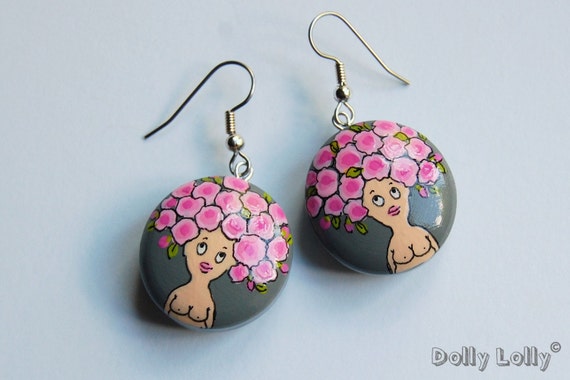 These are adorable. I love the grey background and the pink in the middle. I don't think anyone would see what they are unless they were really close. From afar they would just be a blur of pretty colours. I think for me my hair will cover them most of the time and you will just see peeks of flowers, grey and boobies...
Although these are modern I think they would look beautiful with the locket above. The metals and the ivory, grey and pinks would be lovely together. But equally fun and pretty on their own.
I bought the earrings from
DollyLolly
and although they are one-of-a-kind you can buy similar boobie ladies and other cute items! These were $15 and the above locket was $36. That's the thing I love about Etsy, unique, handmade items, and most of the items are great prices. $15 = £9.42, give or take.
Something I can't get enough of is scary films. I'm on a quest to find something truly terrifying, The Exorcist didn't do it, neither did The Ring. So if you have any good ideas let me know!!
I love horrors and thrillers too, especially Alfred Hitchcock, I love his films so very much.
I'm working my way through this box set, although there are a few I've seen already that aren't in it.
My favourites are Rebecca and Rear Window. Rear Window is a brilliant murder mystery type story line. It has Grace Kelly and I love the clothes, where it's set, when it's set. The scariest I've seen is Psycho. The scene at the end with Norman Bates mummified mother still freaks me out whenever I think of it.